Published: 23rd January 2019
If you're considering selling your home, chances are you have a rough idea of what it's worth in today's competitive real estate market. But could you potentially get more for it? Absolutely! It all comes down to presentation. Here are five ways to give your home a little wow factor – and with any luck, bump up the selling price!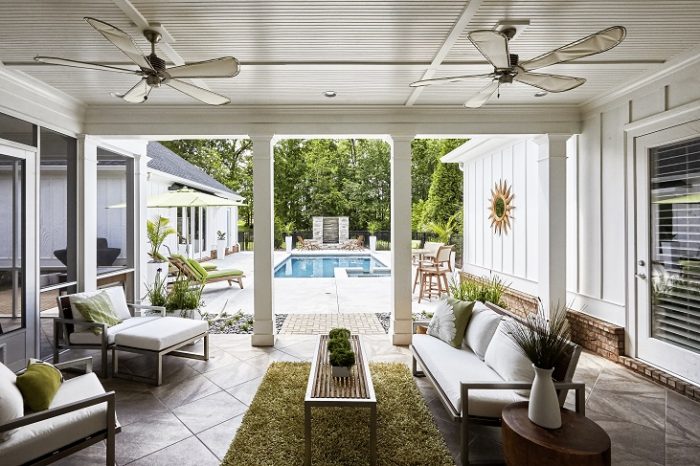 1. Nail the curb appeal.
First impressions are everything to a buyer – and that means a fresh, inviting façade and good curb appeal. New cladding or a decent paint job (including the trims, gutters, and fascias) will instantly transform a tired exterior. Similarly, a little landscaping goes a long way – so ensure the lawns are mowed, the garden beds are mulched, and you fix anything in need of repairs, such as a wonky letterbox or broken fence paling.
If your front door has seen better days, consider replacing it with a newer door, or paint it. According to a 2017 paint colour analysis by online real estate database Zillow, homes with a front door painted charcoal or black sold for thousands more. Installing a new letterbox and shiny new house numbers is also a cheap but effective update.
2. Give the kitchen a facelift.
As the heart of the home, a beautiful, functional kitchen always wins over a keen buyer. If yours is a bit dated, don't panic. Simple cosmetic fixes like changing handles and painting cabinetry can drastically improve the space without breaking the bank.
Replacing an old benchtop with a contemporary one will also offer an instant lift, and the same goes for a new sink basin and taps. Hide retro tiles with a lick of tile paint, or invest in a glass splashback for the ultimate modern look. You should also consider investing in a few new appliances if yours are ancient – you're guaranteed to get a return, and it could be what gets a lukewarm buyer over the line.
3. Go blue in the bathroom.
Of course, a renovated bathroom will always be a hit – but for a cheaper quick fix, paint the bathroom blue. Zillow's 2017 research also found that homes with blue bathrooms – particularly powder blue or periwinkle shades – fetched thousands more than expected.
Other cost-effective fixes include replacing tapware and showerheads with more modern options, and again, break out the tile paint if your tiles are dated – it's a great way to give your bathroom a clean, streamlined look. It probably goes without saying that you should ditch an old mat and raggedy towels for new ones, too.
4. Declutter and clean
Your goal is to create a tidy, welcoming space a buyer could imagine living in. That means stashing away the majority of your stuff – including mess, trinkets and figurines, papers, toys, and benchtop appliances. On bookcases, pare back your books by a third, so there's lots of space. Add just a few hand-picked décor items to bookshelves such as a striking vase or two. Clear out cupboards to show off how much storage you have (because buyers will look).
You should also ensure your home is squeaky clean – crystal clear window panes, fans free from grime and dust, floors vacuumed and mopped, skirting boards wiped. Also dust bookcases, TVs, routers and visible powerpoints. Tiles and pavers should be steam-cleaned, and the kitchen sink and benchtops scrubbed till they're sparkling. Repair leaky taps and sticky drawers, clean the inside of kitchen drawers and reduce cutlery and kitchen implements to the bare minimum.
5. Consider staging your home.
Research suggests that professional staging – where furniture, art, and homewares are brought in to present your home in its best possible light – could net you a higher sale price. It can be expensive, especially if you have a large home, but it's often worth it for the beautiful brochure photos and to give buyers a great first impression.
If you have a good eye and want to stage it yourself, you need to put yourself in the shoes of a prospective buyer. That means arranging storage for most of your belongings and furniture and rearranging selected pieces to make spaces appear as spacious as possible. On inspection days, ensure floors are clean, benchtops spotless and beds are made beautifully with throws and fresh new cushions. Maximise natural light by opening blinds and windows, and burn a citrus-scented candle; research shows it's the scent most likely to appeal to buyers!
Good luck.
Any advice given is of a general nature only and does not take into consideration your personal circumstances. Please consider the appropriateness of the advice before acting.