Published: 7th July 2020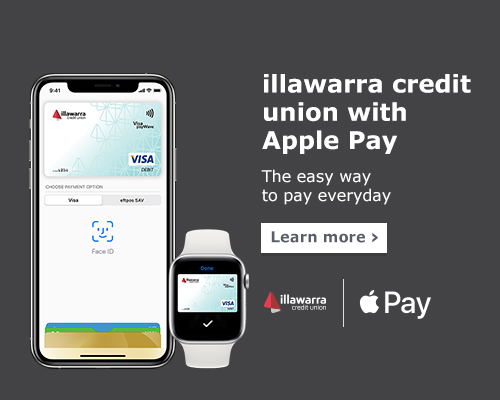 We have made some upgrades to our card network that allows you to choose how to pay through Apple Pay.
In the past when you used Apple Pay the default payment method was Visa debit. We've now made some changes so you can now choose your payment method, be it Visa Debit; eftpos cheque or eftpos savings.
Here's how to change your default payment settings.
First of all, if you're current have your digital wallet set up, you'll need to remove your card and re-register. Once you've re-registered you'll be able to select your default payment method.
On your iPhone:
Open the Wallet app,
tap on your Illawarra Credit Union Visa Card
tap the three dots  symbol and choose the network.
You can also change the payment network prior to tapping your device. Simply, authenticate, choose network on screen, then tap device for payment
On your Apple Watch
Double-click the side button;
Select your card;
Firmly press the display;
Choose your network.
Some important things to note when making transactions:
If you're overseas, eftpos isn't accepted. So when using Apple Pay, select Visa Debit.
Eftpos is also not support if you're shopping online, so the transaction will automatically default to Visa.
Having trouble or would like to know a little more, give us a call on 13 22 49.
---
Source: support.apple.com