Published: 10th August 2020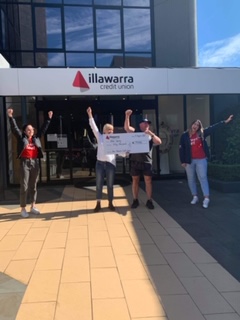 Over the last year, Illawarra Credit Union provided our customers with an incredible life-changing opportunity; the chance to spin and win up to $500,000 off their eligible home loan. We had a number of customers who were placed in the draw after recently taking out a new home loan with us.
We'd been eagerly anticipating the day we got to draw out that one lucky winner… which is exactly what happened on Friday 5 June at our Wollongong Head Office, in front of the beautiful Illawarra escarpment.
The winner's name was randomly selected by our very own CEO, Anthony Perkiss. We were thrilled to announce that the Major Prize Draw winner was Peter Spring from Paradise Point in QLD.
On 1 August 2020, Peter was given the chance to spin our Major Prize Wheel, for the chance to win up to $500k off his home loan with the Illawarra Credit Union. The prize wheel contained a fantastic selection of 100 great prizes up for grabs, including amounts ranging from $5,000 to $500,000.
Unfortunately due to travel restrictions, Peter was unable to attend the event in person…. BUT in true social distancing style, he was still able to watch online. Peter nominated his good friend Keith Cole to spin the wheel on his behalf.
What a life-changing moment for one of our long-term customers. Peter was lucky enough to win $50, 000 off his Illawarra Credit Union home loan. We're thrilled to be able to positively impact one of our customers' lives through this time.  Watch the video below to see the moment Peter found out he had won.